Among the southern California harbor towns of Malibu and Santa Barbara, Jesse Powell (b. 1977) became intimately acquainted with the character of California's elements through surfing, diving and fishing. While his affinity to the language of nature was apparent to him throughout his life, it was while studying in Moscow and the Republic of Georgia (following his Bachelor of Arts degree from The University of Puget Sound) that the marriage of his two passions—nature and painting—harmonized into a life purpose. Powell's intent is to impress the theatrics of this dialogue between nature and his own intuitive essence, into the contemplative land and seascapes that he creates.

"The Dunes" 20″ x 60″ oil on canvas
Jesse Powell's intuitively and physically engaged experiences with the out of doors, along with a dedicated painting skill has earned him the reputation as a master of light impressionist landscape painter. A genre often credited towards the historically significant founders of California plein-air painting, Powell's career is unusual in that it has built a bridge between his predecessors and contemporary fine art landscape painting. This is attributed to his ability to capture the diffused glow of atmosphere unique to California. Using oils in a standard palette of a warm yellow, cool yellow, red, blue and white, he often begins on site with his materials, sensually absorbing a place, and continues the work composition and detail in his Monterey, California studio.
As a coastal California native, Powell grew up in a family who was nurturing to his creative and intellectual pursuits, including his emerging artistic practices. Powell's immersion in the discipline of painting was encouraged by family already fluent in painting. Other mentors who fostered his practice include Russian and American painters Nicholai Duovik, Ilya Yatsenko, and John Wurdeman. Once a resident of Laguna Beach, California, Powell searched for unspoiled regions and eventually settled in Carmel.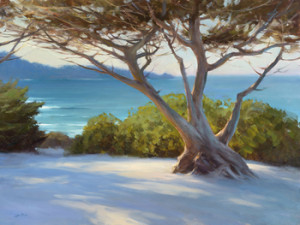 "Classic Carmel" 36″ x 48″ oil on canvas
The journey into a successful career accelerated following his appearance in the publication Southwest Art in 2004, and he has continued to work and receive numerous prestigious awards such as second place in the 2013 Plein Air Salon, and the Irvine Museum award at the 101st annual California Art Club Gold Medal Show. Jesse Powell is distinguished as the first living artist collected by the Irvine Museum. At Del Monte Fine Art we are honored to be the only gallery representing Powell in the state of California. His work has proved complimentary to those who have also admired and collected his skillfully painted translations of treasured landscapes.
To see our inventory of the work of Jesse Powell,